Complete the wiring
For this section you will need:
Printed Parts
Electronic Components
Mechanical Components
Assembly video
Step 1: Connect the Raspberry Pi
Take the Pi stand you printed earlier and push the Raspberry Pi into place so the connectors show through the holes.
Secure the Raspberry Pi in place with two self tapping screws
Insert the ribbon cable from the optics module into the camera port of the Rasberry Pi, ensuring the contacts are on the opposite side from the clasp.
Step 2: Connect the Sangaboard
Mount the Sangaboard onto the Raspberry Pi GPIO pins, ensuring that the ribbon cable goes through the slot.
Secure the Sangaboard in place with two self tapping screws
Push the motor cables into their labelled connectors. Make sure the motor from the correct axis on the microscope goes to the correct port.
Step 3: Connect the LED to the Sangaboard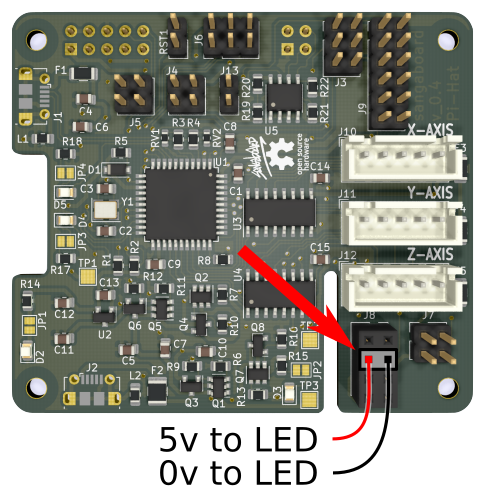 Step 4: Mount the electronics drawer
Place an M3 nut into the slot just inside the hole in the front of the microscope base.
Place another M3 nut into the slot above the Sangaboard power connector on the Pi stand.
Slide the Pi stand into the microscope base making sure not to pinch any wires.
Hold the Pi stand in place with two M3x10 cap head screws which should screw into the two nuts.
To power up your microscope you will need a power supply.
---